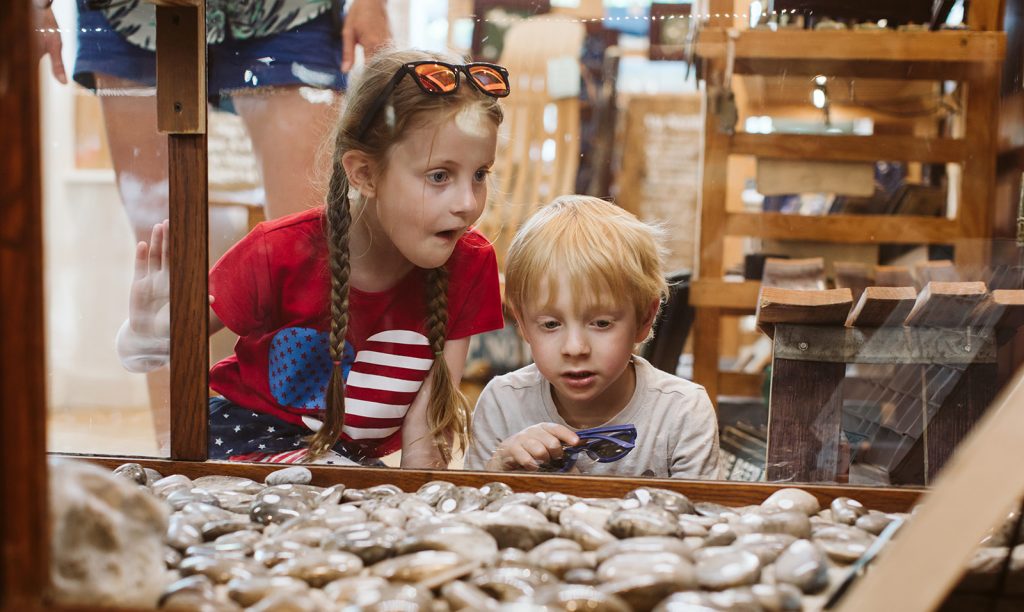 One of our favorite books at NorthGoods is "The Petoskey Stone: The History and Lore of Michigan's State Stone," available in store at NorthGoods or online through Sturgeon River Pottery. This is just a preview of all the great information available in the booklet. For more information or to order, click on the link above, or give us a call! We ship anything, anywhere.
---
What is a Petoskey Stone?
Scientifically speaking, A Petoskey Stones started out as coral called Hexagonaria percarinata. Each Petoskey Stone represents a piece of a coral colony, which later fossilized into rock form.
Where does the name 'Petoskey Stone' come from?
Petoskey Stones are named for the area where they are found in greatest abundance, which centers on Petoskey, Michigan. Legend has it that the word 'Petoskey' originates from the Native American word for "rays of the sun". If you look at the stone closely, he coral's tentacles appear to radiate from the mouth of the coral, resembling the rays of the sun.
How can I find Petoskey Stones?
You can find good specimens all along the rocky shoreline of Lake Michigan, as well as riverbeds, excavation sites, and even roadsides. They can be hard to distinguish – and wet Petoskey Stones show the pattern best – so it can be helpful to carry a bottle of water to splash on the stones.
Where should I look for Petoskey Stones?
Magnus Park in Petoskey has available parking and plentiful Petoskey Stones during the Spring. East Park just across from Sturgeon River Pottery is maintained by Resort Township and is open for visitors on foot year round. Parking is available seasonally.
How do I polish Petoskey Stones?
Petoskey Stones can be polished with sandpaper, polishing compound, cloth or felt, and fresh water. To save you from searching for materials, you can drop by and pick up a polishing kit for only $7.95. We stock everything you need to polish the stones which takes out the guesswork at a price that can't be beat!