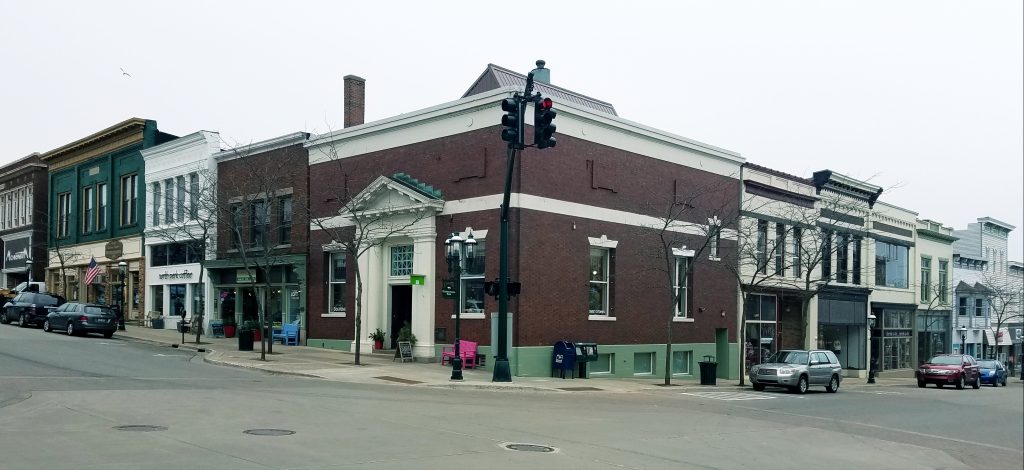 Founded in 2012
Owned and operated by the same people behind Sturgeon River Pottery in the Bay Harbor area, NorthGoods is a Michigan icon seated in the heart of the Petoskey Downtown gaslight district. We can be found on the corner of Lake and Howard streets in Petoskey's transformed historic corner bank building. This attractive section of Petoskey has been historically known as an old haunt for artists and writers alike, even the famed Ernest Hemingway. Or perhaps you know Petoskey for the world-renowned Petoskey Stone? Whatever brings you downtown, from the need for that perfect one-of-a-kind gift, to seeking inspiration, you'll find it here. That same inspired feeling and a love for art runs deep in Petoskey, allowing us to source our products from an array of talented creatives. Our location on Howard Street puts us in walking distance of many incredible artistic locales and galleries; surrounded by such esteemed locations as Stafford's Perry Hotel and Kilwin's Chocolates, NorthGoods is in the perfect place to become your new favorite gift shop. Make sure to stop in and say hi on your next trip Up North!
Local Artists and More
We carry the work of roughly 100 artists and craftspeople here at NorthGoods, including Gwen Frostic, Pewabic, and Motawi Tile Company. Much of our success as a gift shop and fine art gallery is owed to the local creativity that permeates Northern Michigan. But with such beautiful views of the bay, who can help but get painting? We currently stock a great range of Raku pottery, wooden sculpture, jewelry, glassware, and Petoskey Stones downstairs, while watercolor, oil, and acrylic paintings are located upstairs in our Artisans' Loft, and in our new expansion. We now feature a wide range of handmade furniture, many of these pieces one of a kind.
A Connected Community
Here at NorthGoods, we strive to be more than just a gallery and gift shop. By connecting the local community with artists from Michigan and beyond, we hope to help visitors find what gets them excited about being up north. Whether you love pottery, painting, woven baskets or jewelry, we're sure to have something that sparks happiness in your heart and home. Part of what has allowed for our continued success in the beautiful downtown district of Petoskey is people like you, with the commitment to shopping local. We're excited to continue bringing you the best and the coolest hat northern Michigan has to offer. Look out for our upcoming events on our Facebook page, and get connected with some Michigan creativity. See you soon!
A New NorthGoods
We've recently begun expanding our location, allowing us to create an even more amazing space for Up North art and handicrafts. We have transformed the old Northwestern Bank building into an incredible second wing of our unique store, boasting 3,000 square feet to house artisan jewelry, pottery, glassware, local handicrafts and art. Plus, two more side galleries showing awesome handcrafted furniture! We'll be changing the exterior of the building as the year continues, but for now, it's just about the coolest shop in town.